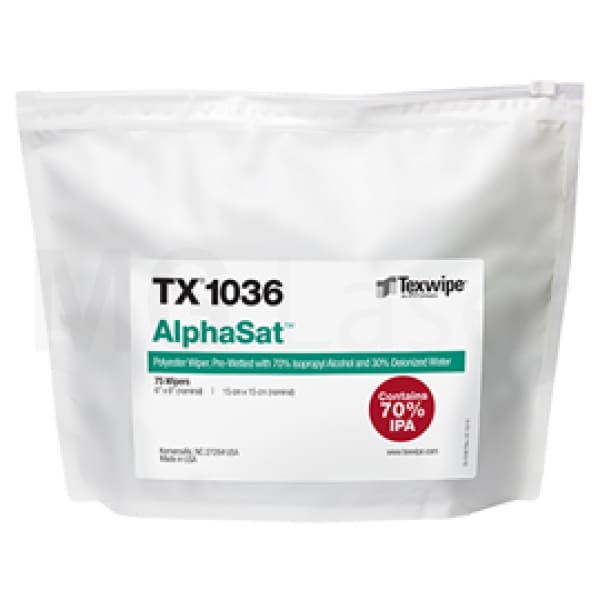 AlphaSat® TX1036 Pre-Wetted Cleanroom Wipers, Non-Sterile
Original price
$ 50.00
-
Original price
$ 50.00
Consistent wetness level
AlphaSat® TX1036 pre-wetted cleanroom wipers are made using AlphaWipe® material, a cut-edge 100% polyester, cleanroom manufactured. The structure allows for a low linting wiper, ideal for cleaning and use on abrasive surfaces. This wiper will not easily snag or abrade releasing particles and fibers into the process or environment.
AlphaSat® TX1036 product is pre-wetted with 0.2 µm filtered USP-grade 70% IPA / 30% DIW for ease of use. These wipers provide a consistent, optimized cleaning efficiency with repeatable wetness and VOC levels.  
Material/Structure: 100% polyester material with a cut edge
Cleanroom Environment: ISO Class 4 - 8, Class 10 - 100,000, EU Grade A - D 
Benefits:
Cleanroom laundered and packaged providing ultra-low levels of ions and non-volatile residues.

Meets USP <797> and USP <800> requirements

Packaged in easy-to-use, recloseable slider bags, reducing solution evaporation that preserves the consistent wiper wetness level.